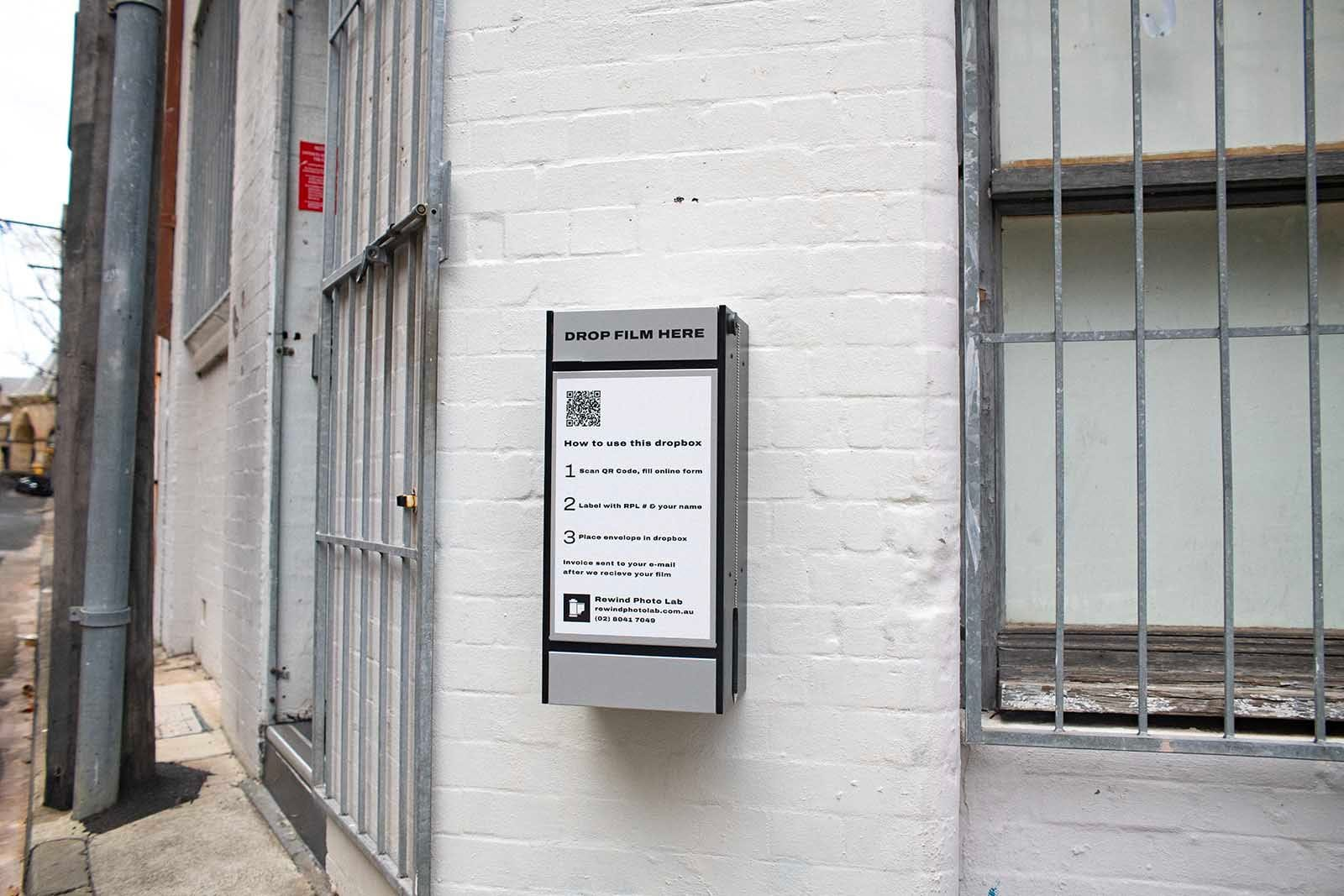 Film Dropbox Locations
RPL is excited to offer an easy and convenient way for you to drop off your film for processing. You can find our dropboxes at the following locations:
Rewind Photo Lab Front Door - ALEXANDRIA
338-356 MItchell Road, Alexandria, NSW 2015
Available: 24/7 Collections: Daily Located to the left of 'The Cooper Mill Cafe' Envelopes provided in black box, pen is attached to door. Insert your film via the silver mail slot.
Concrete Skate Supply - BONDI BEACH
152 Glenayr Ave, Bondi Beach NSW 2026
Available: Mon - Fri 10 am - 6 pm, Sat 10 am - 5 pm, and Sun 10 am - 4 pm Collections: 1-3 times a week Located inside the store.
The Dale Studio - CHIPPENDALE
19-25 Wellington St, Chippendale NSW 2008
Available: 24/7 Collections: 1-3 times a week Located to the right of the teal coloured door on the wall. Envelopes provided on side with pen attached. Insert film by lifting the lid of the box and dropping inside.
The Midnight Special - NEWTOWN
44 Enmore Rd, Newtown NSW 2042
Available: Tues - Sat 5pm - 12am Collections: 1-3 times a week Located inside next to the bar.
How to Submit Film
Step 1: Scan the QR Code
Each dropbox location is equipped with a QR code. Simply scan this code with your smartphone to begin the process.
Step 2: Fill Out the Online Form
After scanning the QR code, you'll be directed to an online form. Fill it out with your details and information about the film you're submitting. Make sure to double-check the information you enter for accuracy.
Step 3: Write the RPL Order ID Number on Your Package
Once you've completed the online form, you'll receive an RPL Order ID number. Write this number clearly on the outside of your package. This helps us track and process your film correctly.
Step 4: We'll Invoice You
You don't have to worry about payment right away. We will invoice you once we receive and process your film. Please note that the frequency of order collection varies depending on the dropbox location. Collections range from daily pickups to 2-3 times a week. We'll do our best to process your film as quickly as possible once it arrives at our lab. Thanks for choosing Rewind Photo Lab! If you have any questions or concerns, please don't hesitate to get in touch.
Become a Dropbox Partner
Do you run a business? We invite you to host an RPL Film Dropbox at your location. This is a great opportunity to increase visibility and foot traffic while supporting the local film photography community.
Click here
to fill out our partner form and we'll get in touch. Let's partner up!